In the beginning:
I download Trading 212 in September 2020 after watching a brief advertisement on the telly. Though I had seen its adverts a few times before, I never gave it any serious thought as I did not believe that you could trade stocks without paying any fees. To be honest, when I first heard about it, I thought it was a scam or a trick app that claims to be free but once you have started to use it, it bombards you with hidden costs and fees.
Even after downloading it to my mobile, for the first few weeks, I trod very carefully in terms of depositing money and buying and selling stocks. I have now been using it for about one and half months and here is my review (Please note my review is only related to the share dealing account as I have not used the other features of the Trading 212 app namely ISA and CFD):
1. No Fee:

Yes, it does not charge you any fees for selling or buying stocks: However, there are some other fees that you would be paying such as stamp duty (charged at 0.5% of the total cost). But this is a government levy and everyone has to pay it if buying UK stocks.
2. You Don't Have to Have an App Only:
You can download the app from Google Play Store but Trading 212 also has a website https://www.trading212.com where you can trade stocks and shares if a mobile app is not your cup of tea.
3. I Wish I Had Downloaded It Sooner:
I have been buying and selling, in the hope of making a living as a day trader, for around 10 years. And in that period I have not made much money to call myself a day trader, but I have paid a significant amount of money during the last 10 years to online brokers. And this is why I like apps like Trading 212 as I don't have to pay anything for fees when I trade. There is also no fee or commission if you transfer money to or from Trading 212 to your bank account. Neither there is any management fee for the stock you hold on it.
4. You Pay the Spread Anyway:
Many people say that Trading 212 is not free as you are paying indirectly as the spread (the difference between the price of selling and buying). So basically the argument is that Trading 212 charges higher prices when you are buying and gives you lower prices when you are selling the stocks. But, Trading212 is not the only brokerage company that does so. No matter whichever broker you choose, they all have the spread – even if you are paying a fee for your stocks or not. The spread is always there.
5. It Is a Popular App:
Trading 212 started in Bulgaria and entered the UK in 2016 and it started to offer no-fee online share dealing in 2017. At the time of writing Trading 212 app has had 15 million downloads.
6. Is Trading212 authorised?
Yes. Trading212 is regulated by the FCA (Financial Conduct Authority) UK. Trading 212 has an FCA Firm Reference Number 609146 (https://register.fca.org.uk/s/firm?id=001b000000NMi1QAAT).
7. Is My Money Safe With Trading 212?
In the event that Trading 212 goes bust, a user's money is protected up to the value of £85,000, the same way as a bank account in the UK is protected by the FSCS for up to £85,000.
8. How to Get Started?
If you want to check out how the app works or how to trade on it, you can do so by first trying out using a practice account where you are allowed to deal up to £50000 in virtual money.
9. Trading 212's Reviews on Other Sites:
At the time of writing, Trading 212 has the following scores on the review sites:
Trustpilot UK: 7242 reviews with an average score of 4.4 out of 5
Google Play: 73506 reviews with an average score of 4+ out of 5
For reviews and group discussions on Reddit: visit: https://www.reddit.com/r/trading212/
https://www.reddit.com/r/UKInvesting/comments/7g3boz/trading_212_yay_or_nay/
10. If It Is Free Then How Does Trading 212 Make Money?
Trading 212 makes money by selling the stock at a higher price and buying them at a lower rate (the difference is called the spread). Spread is the difference between buying and selling price. For example, if a share costs 5p, then the price the broker might be showing you may be 5.25p when you buy it. And when you sell it, it might be 4.98p and so in both cases, you are buying expensive and selling cheap giving the broker an opportunity to make a profit by the spread.
11. Trading 212 Free Shares:
Currently, if you sign up for Trading 212 by using an invitation code from someone who is already a Trading 212 account holder, both you and the invitee will get free shares up to the value of £100 or $100 or 100 Euros. One user can invite up to 20 people and therefore can get free shares of up to 2000. The accounts are credited within 3 working days with free shares once your friend or invitee has signed up for a new account and has deposited the minimum amount of £1. However, there is a limit of 20 signups per account for which the inviter will receive free shares.
12. Over 2950 Stocks from Germany, UK, USA, Holland, France, Spain, and Switzerland:
The heading says it all!
My personal experience:
So far, I like it. In the past, I have paid out hundreds of pounds just to be able to buy or sell stocks. Even if you trade just 20 times a month, that can amount to £160 (£8 per go, on the cheap side) just for the brokers' fees. At least I am not paying that now. And even if Trading 212 is making money by the spread, buying and selling the stocks for me are still way cheaper than before.
I can start investing from £1.
The minimum amount of stock that I have to buy on Trading 212 is £1 (for the majority of fee-charging brokers the minimum amount is £50).
I can buy fractional shares:
One of the best features of Trading 212 is that one can buy fractional shares. Quite handy when you don't want to or have that sort of money to invest in a very expensive share such as Amazon ($3219 apiece), or Alphabet inc. ($1795) but would rather invest a little money to own a fraction of the whole share.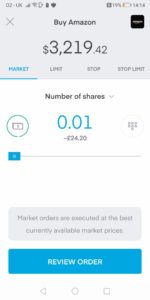 No foreign exchange fee:
When buying the US, or European shares, Trading 212 has no foreign exchange fee. The buyer pays the converted amount in his local currency.
Live chat:
Contacting customer support through live chat is handy when there is a problem. I have contacted them a few times and 4 out of 5 times they were able to resolve the issue over the chat.
My Only Qualm:
Probably the biggest disappointment with Trading 212 is that occasionally there are times when there is a delay in share buying and selling execution as it goes in the pending mode. The delays sometimes can be up to 2 minutes and longer and if the price moves up or down in the meanwhile, there is a good chance that you won't be getting the price of your choice.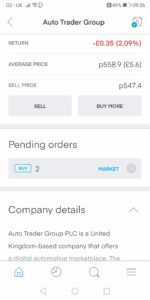 Conclusion:
Overall I have found Trading 212 cheap, user-friendly, and easy to buy and sell shares and stocks. And I do hope that it remains this way as there are very few alternatives apps that can deliver the same features and cost. The issue of pending orders, fortunately, does not occur frequently and so far it has not made a big difference in price. But there is certainly a need to fix this issue up.